Whilst you're reading this, do the spirals above appear to be spinning?
They're actually not. They're completely static - just look directly at them and they'll stop.
The following demonstration, by Daniel White, is a great use of the colour aftereffect illusion. The image below will give an example of a colour you will never see on your computer screen. Stare at the dot in the centre of the red circle for 30 seconds to 1 minute. You will see the edges of the circle begin to glow, but do not stop staring at that point - keep on. After the required time move your head back and you will see a glowing ring around the red circle. The colour you are seeing is a cyan which will be perceptually totally different from any of the colours you have seen on your computer. The colour gradient to the right shows the shades of 'cyan' which your computer can produce, none of which match the colour you see with this effect.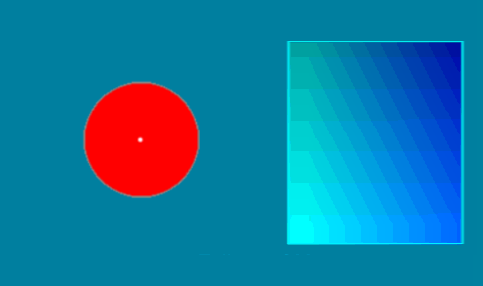 Does this look like it's rippling to you? That's your eyes doing that, not the picture ;)
This image has only three colors. What appears to be blue and green is actually the same color.
The altered perception is caused because the eyes combine adjacent colors.